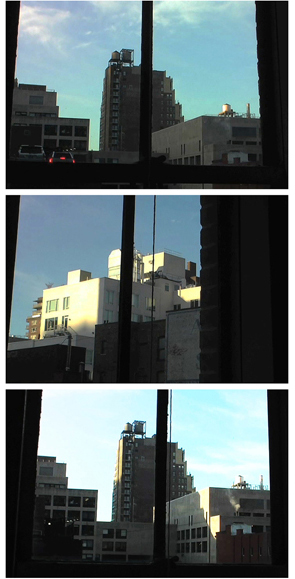 PAUSE
(2009)
Music by David Helaine, colour video, 13'16"
Pause invites the spectator on a temporal voyage through a fixed place in space, that of the artist's workshop situated just west of 29th Street in New York. Mikael Levin spent three years there, exploring the frontiers between inner and outer worlds, frontiers created by the window frame and pane of glass from which he looked out from his studio. Photography also plays its role as frontier, as a medium of aesthetic expression and means of capturing the vibrations of light playing over the surrounding urban landscape, from early morning to dusk. The fleeting, infinitesimal phenomena of each day dart like arrows across his photographs - Zeon's arrow paradox, \no doubt - in a time continuum in which temporality is stretched to its furthest limits, and then stretched and stretched again, until it becomes a-temporal, a timeless concentration of worlds and meanings. From this apparently anodyne narration, our tired eyes, weary with their own hackneyed supremacy and the glut of daily observation, learn to touch and feel elements of daily existance they no longer know how to see. The infinite changes captured by the camera lens become the focal point necessary for the epiphanic awakening of our battered, saturated senses. The sound track, composed by David Helaine, also conveys the artist's desire not to overwhelm or overwork the spectator, but rather offer them a moment of insightful contemplation, and invite them to Pause.

Delphine Costedoat (Translation: Lucy Edwards)
View Pause on Vimeo.
Together with works such as Margins, Inside Looking In, Time Pieces, and Darkroom, this video is part of a body of work centered on the space of my studio on West 29th Street in New York.